Publications
Select the year of publication...
...or go to the
Recent Publications

Determining Entanglement Molar Mass of Glassy Polyphenylenes Using Mechanochromic Molecular Springs
Maximilian Raisch, Günter Reiter, Michael Sommer. ACS Macro Lett. 2022, 11, 760–765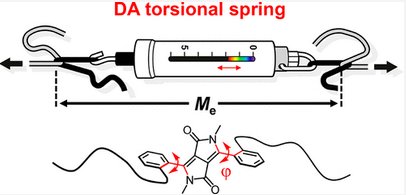 Molecular force transduction in tough and glassy poly(meta,meta,para-phenylene) (PmmpP) was investigated as a function of Mn using covalently incorporated mechanochromic donor–acceptor torsional springs based on an ortho-substituted diphenyldiketopyrrolopyrrole (oDPP). Blending oDPP-PmmpP probe chains with long PmmpP matrix chains allowed us to investigate molar-mass-dependent mechanochromic properties for a series of specimens having mechanically identical properties.(mehr...)
---

The memory of thin polymer films generated by spin coating
Günter Reiter, Farzad Ramezani, Jörg Baschnagel. EPJE 45 (2022) 51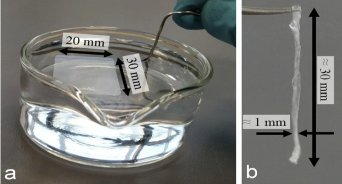 We present results from isothermal and temperature-sweep creep experiments adapted to filaments which were derived from spin coated and subsequently crumpled thin polystyrene films. Due to the existence of residual stresses induced by preparation, the filaments showed significant shrinkage which we followed as a function of time at various temperatures. In addition, the influence of preparation conditions and subsequent annealing of supported thin polymer films on shrinkage and relaxation behavior was investigated. The temporal evolution of shrinkage revealed a sequence of relaxation regimes. (mehr...)
---

Primary nucleation in metastable solutions of poly(3-hexylthiophene)
Tianyu Wu, Sivasurender Chandran, Yao Zhang, Tianze Zheng, Thomas Pfohl, Jun Xu, Günter Reiter. Macromolecules 55 (2022) 3325–3334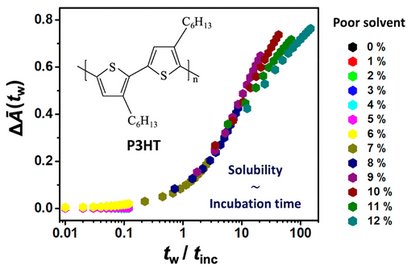 Due to its smallness and low probability of formation, the determination of the size of the critical primary nucleus represents a great challenge in polymer crystallization. We are still missing a feasible approach providing experimental access to primary nucleation. In this work, we investigated the dependence of the incubation time on the degree of supersaturation for a well-defined metastable regime of a prototypical conjugated polymer, i.e., poly(3-hexylthiophene). Based on Kashchiev's nucleation theorem and verified by a simulation model for primary nucleation based on the kinetics of attaching and detaching crystalline units, we deduced the number of crystalline units within the critical nucleus [more...]
---

Illumination of Conjugated Polymers Reduces Nucleation Probability and Slows Down Crystal Growth Rate
Yaser AlShetwi, Brahim Bessif, Michael Sommer, Günter Reiter. Macromolecules 54, 2021, 11478–11485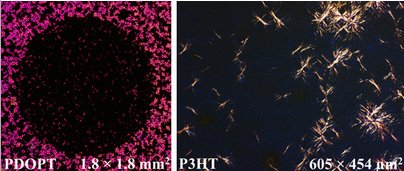 Using the set-up of an optical microscope, we have examined the influence of illumination with white light on the crystallization behavior in molten films of poly(3-(2,5-dioctylphenyl)thiophene) and poly(3-hexylthiophene). We observed a reduction in nucleation density and crystal growth rate induced by illumination. The amount of this reduction increased with the increase in light intensity. Melting samples previously crystallized under illumination and recrystallizing them in the dark showed full reversibility of the crystallization behavior, demonstrating that these changes in the crystallization behavior induced by illumination were not permanent. (mehr...)
---

Semi-crystalline poly(thioether) prepared by visible-light-induced organocatalyzed thiol-ene polymerization in emulsion.
Cuong Minh Quoc Le, Gautier Schrodj, Ibrahima Ndao, Brahim Bessif, Barbara Heck, Thomas Pfohl, Günter Reiter, Justine Elgoyen, Radmila Tomovaska and Abraham Chemtob. Macromol. Rapid Commun. 2021, 2100740

A photocatalytic thiol-ene aqueous emulsion polymerization under visible-light is described to prepare linear semicrystalline latexes using 2,2'-dimercaptodiethyl sulfide as dithiol and various dienes. The procedure involves low irradiance (3 mW cm–2), LED irradiation source, eosin-Y disodium as organocatalyst, low catalyst loading (< 0.05% mol) and short reaction time scales (< 1 h). The resulting latexes has molecular weights of about 10 kg mol–1, average diameters of 100 nm and a linear structure consisting only of thioether repeating units. (more...)
List of Publications
Maximilian Raisch, Günter Reiter, Michael Sommer. ACS Macro Lett. 2022, 11, 760–765

Jun Xu, Günter Reiter, and Rufina G. Alamo. Crystals 12, 618 (2022)

Günter Reiter, Farzad Ramezani, Jörg Baschnagel. EPJE 45 (2022) 51

Cuong Minh Quoc Le, Gautier Schrodj, Ibrahima Ndao, Brahim Bessif, Barbara Heck, Thomas Pfohl, Günter Reiter, Justine Elgoyen, Radmila Tomovaska and Abraham Chemtob. Macromol. Rapid Commun. 2021, 2100740

Yaser AlShetwi, Brahim Bessif, Michael Sommer, Günter Reiter. Macromolecules 54, 2021, 11478–11485

Tianyu Wu, Sivasurender Chandran, Yao Zhang, Tianze Zheng, Thomas Pfohl, Jun Xu, Günter Reiter. Macromolecules, Macromolecules 55 (2022) 3325–3334

Sara Shatooti, Morteza Mozaffari, Günter Reiter, Diana Zahn, Silvio Dutz. Physica B: Physics of Condensed Matter 625 (2022) 41346856

Mina Alizadehaghdam, Farhang Abbasi, Günter Reiter. Journal of Materials Science 56 (2021) 19723–19737

S. Shatooti, M. Mozaffari, G. Reiter, D. Zahn, S. Dutz. Scientific Reports 11 (2021) 16795

Weixiang Chen, Brahim Bessif, Renate Reiter, Jun Xu, Günter Reiter. Macromolecules 54 (2021) 8135–8142

Brahim Bessif, Thomas Pfohl and Günter Reiter. Polymers 13 (2021) 1676

Sivasurender Chandran, Günter Reiter. In Matyjaszewski et al. (Eds.): Macromolecular Engineering: From Precise Synthesis to Macroscopic Materials and Applications, 4 Volumes, 2nd ed. Edition, Wiley-VCH Verlag GmbH, 2022. ISBN 9783527344550

Jun Xu, Günter Reiter, Rufina G. Alamo. Crystals 11 (2021) 304

Yaser AlShetwi, Daniel Schiefer, Michael Sommer. Günter Reiter. J. Phys. Chem. B 125 (2021) 5636–5644

Zhixin Guo, Shouke Yan, Günter Reiter. Macromolecules 54 (2021) 4918–4925

Konstantinos Roumpos, Sarah Fontaine, Thomas Pfohl, Oswald Prucker, Jürgen Rühe, and Günter Reiter. Scientific Reports 11 (2021) 13149

Baode Zhang, Marialaura Clausi, Barbara Heck, Susanna Laurenzi, Gabriella Santonicola, Janis Kleperis, Andris Antuzevičs, Guenter Reiter, Andrey Aleshin, Anatoly Lobach. ACS Appl. Mater. Interfaces 13 (2021) 24218–24227

Deepika Sharma, Roderick Y. H. Lim, Thomas Pfohl and Yasin Ekinci. Microsystems & Nanoengineering 7 (2021) 46

Deepika Sharma, Roderick Y. H. Lim, Thomas Pfohl, and Yasin Ekinci. Part. Part. Syst. Charact. 2021, 38, 2000275

Konstantinos Roumpos. Inauguraldissertation der Fakultät für Mathematik und Physik 2021. DOI: 10.6094/UNIFR/194127